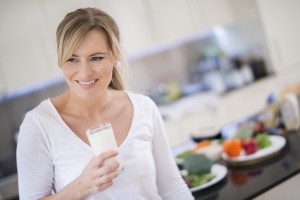 While no one is entirely safe from gum disease, some risk factors can speed the development of periodontal infections and lead to more serious damage sooner. Osteoporosis is one such factor. At Arizona Periodontal Group, we want to encourage you to take proactive steps to prevent periodontal disease—especially if you have been diagnosed with osteoporosis or a low bone mineral density.
Losing Bone
In the late stages of periodontal disease, teeth are lost due to the deterioration of gum tissue and alveolar bone caused by the infection. Osteoporosis causes a more generalized bone loss, diagnosed by measuring bone mineral density (BMD). Because both diseases involve the loss of bone, it seems obvious that there might be a risk of worse damage when the two are combined. This hypothesis has been borne out in multiple studies. Osteoporosis has been found to increase the loss of alveolar bone, especially in patients who already had periodontitis.
Halting The process
To prevent possible tooth loss and other damage to the structures of the mouth, it is essential to take careful preventive measures against periodontal disease. Regular brushing, flossing, exams, and preventive treatments such as cleanings are important for everyone, but especially for those with osteoporosis. Your fight against periodontal disease begins long before the first detectable signs appear.
For your general health as well as possible dental benefits, you should also seek treatment for your osteoporosis if you haven't already. Currently, available medications can slow or halt the deterioration of bone mass and reduce the danger of fractures.
The Periodontitis-Osteoporosis Link
New research indicates that periodontal disease and osteoporosis may be even more closely linked than previously thought. The condition of bones in the mouth appears to be a good predictor of bone quality elsewhere in the body. This may one day provide a method of early diagnosis for osteoporosis that could allow for more preemptive treatment.
Ultimately, Dr. Trujillo's advice to patients with osteoporosis is to care for their teeth the same way you would otherwise. Be especially cautious in checking for and treating periodontal disease, as it may have a more severe effect than it would in other patients. For help monitoring your oral health and treating gum disease early in its development, make an appointment with our office.