Dental Implants in Phoenix, AZ

Single & All-on-4® Implants
What Are Dental Implants?
Dental implants replace missing teeth and the implant itself acts as a tooth root or an anchor for the dental crown. The dental crown attaches to the top of the implant and looks and functions exactly like a real tooth. Restorative dentistry has come a long way and can return your smile to its complete function and elegance.
Whether you are missing one or multiple teeth due to injury, neglect, or genetics, we would love to help you! Dr. Trujillo is one of the best dental implant periodontists in Phoenix, AZ. We are confident we will do great things for you and your smile.
We offer both single implants to replace one or two teeth and All-on-4® dental implants to replace the whole upper or lower arch. We can help you get back to a point in your life where eating, laughing, talking, and smiling are a joy. We love to see our patients happy!
Benefits of Dental
Implants
There are many benefits of dental implants (single tooth or All-on-4®) over other tooth replacement options.
Looks and Feels Natural
The most notable benefit is the fact that your teeth look, feel, and function exactly like your other natural teeth. No one will know that your teeth are implants because we match them to the color and likeness of your other teeth. Unlike other restorative dental solutions, there are no special dental care procedures. Simply care for them as you would your other teeth by brushing and flossing regularly.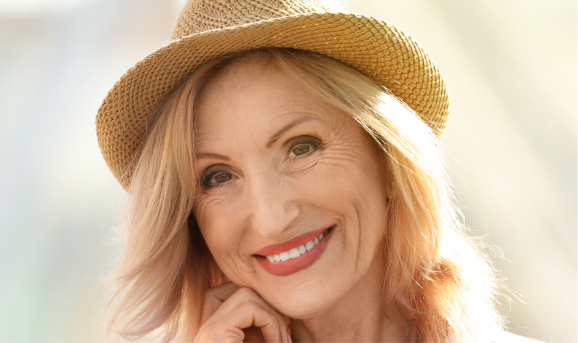 Prevents Bone Loss
Another benefit above other tooth replacement options is the prevention of bone loss. Bone loss is an issue when you lose a tooth or teeth. When a tooth is missing the body reabsorbs the bone which can cause the loss of other teeth. Bone loss can also cause your jaw and facial structure to appear sunken.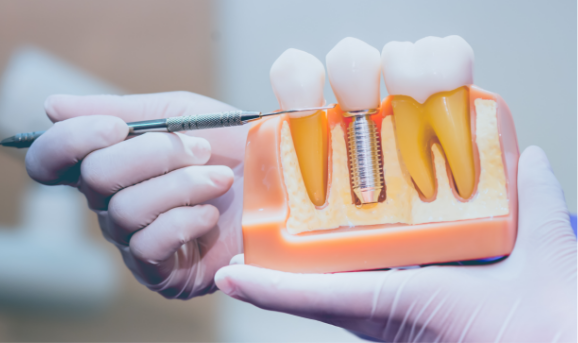 Long-Lasting
Lastly, the crown can last 25+ years and the implant itself can last a lifetime with proper care (regular brushing, flossing, and dental checkups).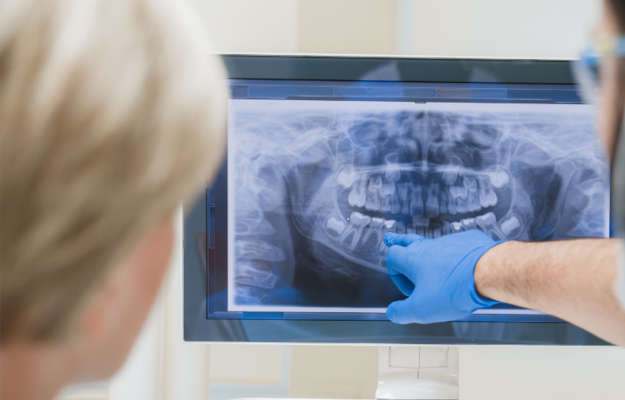 Are Dental Implants
Right
for me?
Dental implants, including All-on-4®, are a great solution to missing teeth. However, there are health conditions that prevent some patients from having them as an option. We examine the health of your gums and bone to make sure the procedure is a success. The patient must also have a strong determination to maintain good oral hygiene. Dr. Tujillo will consult with you about the best option for your specific needs. We want the best outcome and we take your health seriously.
If you are pregnant, still have a growing jawbone, or smoke frequently, dental implants may not be the best option.
The Procedure
When you come into our office we'll have an evaluation with you where we will discuss your health. We'll take a look at your teeth, take x-rays, and review your medical health. Additionally, we may recommend a CT scan if we need to understand more about the shape and strength of your jawbone. This also helps us to map out the necessary nerves and sinuses. When that is done, we can create a fitting prosthesis and begin installing the dental implants. We'll see that your bite fits perfectly and your smile looks completely natural.
The treatment process typically includes these steps:
Dr. Trujillo will prescribe medications such as antibiotics and/or pain relievers to begin taking prior to the surgery.
A local anesthetic numbs the area where Dr. Trujillo will place the dental implant. Of course, at your request oral or intravenous sedation is available for your comfort. If sedated, a local anesthetic is still administered to numb the areas where Dr. Trujillo will place the implant(s).
Once you are fully sedated Dr. Trujillo will create a small opening in your gum tissue, revealing the bone where the dental implant will be placed.
A socket is created using special instruments.
A titanium implant is then inserted into the socket.
Dr. Trujillo sutures the placement site closed.
After the procedure, Dr. Trujillo and our team provide you with aftercare information to allow for proper healing and prevent things like peri-implantitis. A standard dental implant or All-on-4® procedure will need two to four months to heal. During this time your bone will fuse around the implant so it becomes the new artificial root for your new tooth.
The exact amount of time it takes for your implant post(s) to heal is determined by a variety of factors. Follow-up care ensures that you are healing well and determines when you are ready for the restorative phase of your treatment.
I've had some implants done by Dr. Trujillo in 2007, and since then, I have been complimented by a quite a big number of dentists at the great job he's done. I'd follow him to the moon if I needed any professional work done, he's compassionate, very knowledgeable, professional yet kind.
Tina C.
All-On-4®
All-on-4® is a revolutionary procedure that gives you a brand new set of teeth in a day. Just one treatment and all in just one visit! All-on-4® can restore your smile.
The procedure gets its name from the four posts that support the entire dental bridge. These posts, set into bone, hold your new set of teeth in place. Because it only requires four posts, the cost and complexity of the procedure is lower compared to a tooth-by-tooth procedure.
About the All-On-4® Procedure
One of the biggest benefits of All-on-4®, or "teeth in a day" as some call it, is that it doesn't require several visits. Everything is done in two sessions. The first appointment involves extracting any remaining teeth and placing the implants. It takes roughly four to eight months for the implants to fuse with the bone. During this time, dentures can be provided as a temporary replacement. This is where the term "teeth in a day" comes from.
After the implants have had time to fuse, the implant bridges are affixed to the posts. These artificial teeth are designed to look as natural as possible and to fit the shape of your mouth perfectly.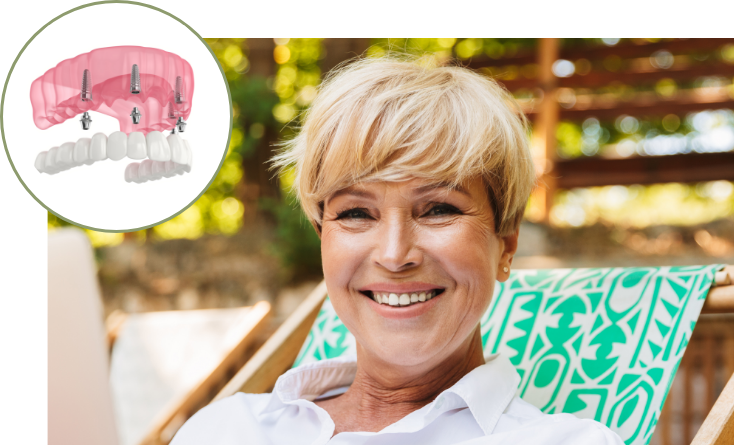 If you live in or near Phoenix, AZ, and would like to replace your missing teeth, we invite you to call us today for an appointment! We'll schedule a time for you to come in so that we can answer your questions and find a way to best meet your needs.
Benefits of All-On-4®
Besides the fact that this procedure allows you to replace all of your missing, damaged, or decayed teeth in a day, it has several other benefits well worth considering. These include:
Permanent teeth placement.
Teeth that are fixed in place so that they don't shift or slip throughout the day like dentures.
They look and function like natural teeth.
All-on-4® implants don't need to be removed at night for cleaning because you simply maintain them as you would your natural teeth.
They don't put any pressure on your gums, so they don't cause irritation or inflammation.
These replacement teeth maintain your facial features and prevent your jawbone from shrinking over time as is common with missing teeth.
They support a healthy bite so you can eat, speak, and live as you would with natural teeth.
If you're uncertain if All-on-4® is the best option for you, don't hesitate to ask us. We are happy to help you look at the whole range of options, compare their benefits, and come to a treatment plan based on your individual needs.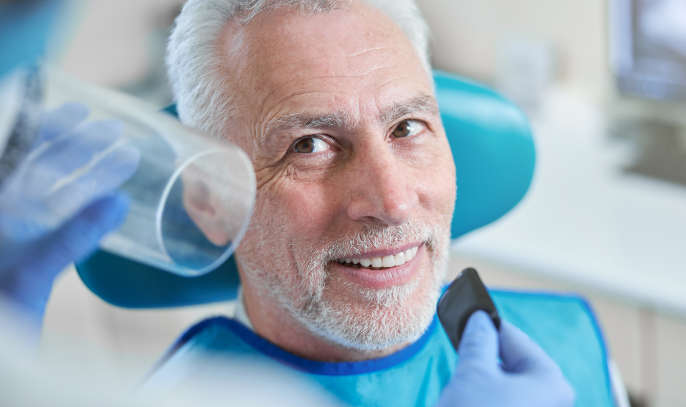 Cost of a Dental Implants
The amount of work and materials for a dental implant differs from patient to patient. The fees and costs vary based on the type and number of implants and any necessary additional procedures.
Many people consider dental implants to be too expensive compared to other tooth replacement options. However, the cost decreases when you consider how long they last compared to other methods. Here are some facts about dental implants:
Permanent solution: they last up to a lifetime while conventional methods only last between five and eight years.
High success rate: the success rate is 95% or higher.
Custom-designed: custom-made to fit and appear like all your other teeth.
Specialized care: Dr. Trujillo is a specially trained periodontist with advanced education and skills, and has 25+ years of experience.
Schedule an appointment today with Dr. Trujillo at Phoenix Periodontal Group to ask all of your questions about dental implants.
We look forward to seeing you.