All-On-4
®

Dental Implants In Phoenix, AZ: Transform Your Smile
40,000+
Satisfied Patients
185+
Google Reviews / 4.9 Avg Rating
All-On-4® Dental Implants Offer A New Set of Teeth In Just One Visit!
With this innovative technique of using four posts that support the entire dental bridge, you can enjoy a complete smile restoration in a single day, without the need for multiple appointments. All-on-4® implants are a highly effective solution for restoring your smile and improving your overall dental health.
How the All-On-4®Dental Implant Procedure Works
The All-on-4® procedure is known as "teeth in a day" because it can provide a brand new set of teeth in just two visits. During the first appointment, any remaining teeth are extracted, and the implants are placed. It takes around four to eight months for the titanium posts to fuse with the bone, but temporary dentures can be worn during this time.
After the posts have fused, the bridge of dental crowns is attached to the posts, giving you artificial teeth that are designed to look and fit naturally.
If you live in or near Phoenix, AZ, and would like to replace your missing teeth, we invite you to call us today for an appointment! We'll schedule a time for you to come in so that we can answer your questions and find a way to best meet your needs.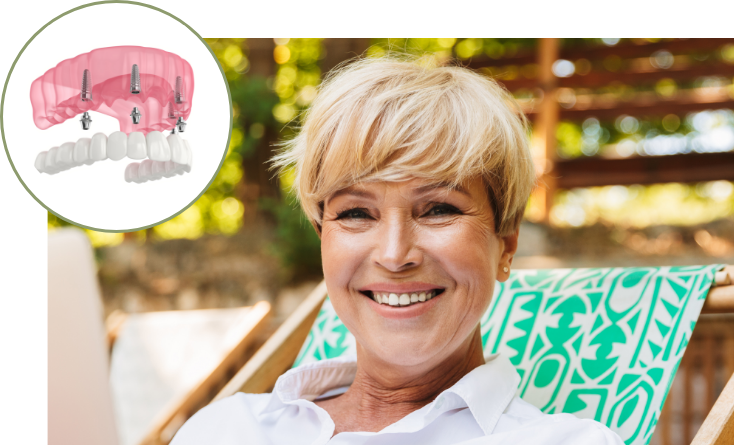 Benefits of All-On-4
®

Immediate Dental Implants

The All-on-4®procedure has several benefits worth considering besides the fact that this procedure allows you to replace all of your teeth in a day. These include:
Permanent teeth placement.
Fixed in place so that they don't shift or slip like dentures.
Look and function like natural teeth.
Simple maintenance without the need to remove them at night.
Implant-supported dentures don't irritate or inflame your gums, unlike traditional dentures.
Maintain your facial features and prevent bone loss over time, which is common with missing teeth.
Implant-supported dentures allow a healthy bite so you can eat, speak, and live normally.
If you're uncertain if All-on-4® is the best option for you, please bring your concerns to us. We are happy to help you look at all of your options, compare their benefits, and come to a treatment plan that's right for you.
Patient Review for All-On-4 Implants
★ ★ ★ ★ ★
Yelp review
Am so thrilled with my 4 x1 dental bridge. It only took one day to transform 40 years of dental pain and half smiles into an beautiful full grin! I can recommend Dr. Trujillo and the entire staff at Arizona Periodontal Group because I did my homework and researched several treatment plans and after visits to four periodontists and dentists, the staff at AZ Periodontal Group were the only ones who truly listened to what I wanted, addressed my concerns and found a treatment plan that worked for me.
-Melissa G.
All-On-4 Implants
Schedule an appointment today with Dr. Trujillo at Arizona Periodontal Group in Phoenix, AZ. Bring your questions about All-On-4
®

Immediate Dental Implants.
We look forward to seeing you.