You might be surprised to know how many people are embarrassed by their smiles across the country. Some people haven't been to a dentist in years due to fear, money, or a variety of other reasons.
Others have genetics that plays a factor in the health of their teeth. There are also unfortunate injuries. So many things can play into why people need their teeth extracted and/or replaced.
Fortunately, there are a few replacement options that can truly make your smile look new and completely natural. No one needs to know otherwise.
There are about 3 million people in the U.S. alone with dental implants. So, if you're in need, you're certainly not alone.
This article will answer some of the common questions about dental implants. The more you know, the more comfortable you can feel about getting them for yourself, should you need them.
Are Dental Implants Worth It?
Dental implants are absolutely worth the investment. The implant screw acts like the root of a natural tooth. The crown, the part that you see, looks just like your other natural teeth.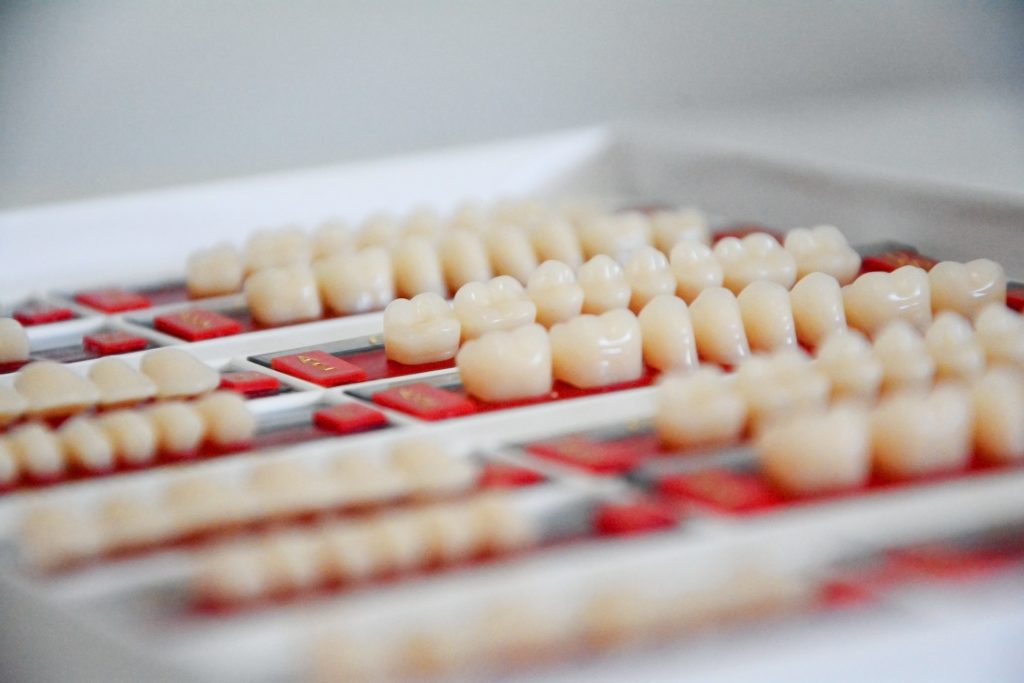 Long-Lasting
Dental implants are often a better investment than other replacement procedures because they can last a lifetime. The screws themselves can last forever. The crown may need to be replaced after 15 to 25+ years if properly cared for.
The longevity of the crown also depends on where the implant is located in the mouth. Teeth have different functions depending on where they are located. Some teeth are for biting while others are for chewing.
Molars are in the back of the mouth and are meant for chewing. An implant to replace a molar may wear out sooner than an implant in the front of the mouth.
Feel Natural
Another benefit of dental implants is that it is fused to your jaw bone. The implant and crown tend to feel more natural than dentures. They are also more durable and act more like your natural teeth.
Reduces Bone Loss
Dental implants can also help to reduce the risk of bone loss in your jaw. This could prevent the need for other expensive (and potentially painful) procedures in the future.
How Long Do Dental Implants Last?
As stated above, dental implants themselves can last a lifetime. If you take care of them, you will likely never have any issues with the screws that are implanted.
The dental crown that attaches to the implant can last as long as 25+ years if properly cared for. Proper care includes the basics — brush, floss, and visit your dentist regularly.
These steps will help maintain healthy gums that do their part to hold the implant in place. Healthy gums also help give the dental crown a more natural look and a healthy smile.
Can Dental Implants Be Done in a Day?
In some cases, yes. There are two procedures called All-On-4® and All-On-6® dental implants that have been increasing in popularity over the years.
All-On-4® & All-On-6® Implants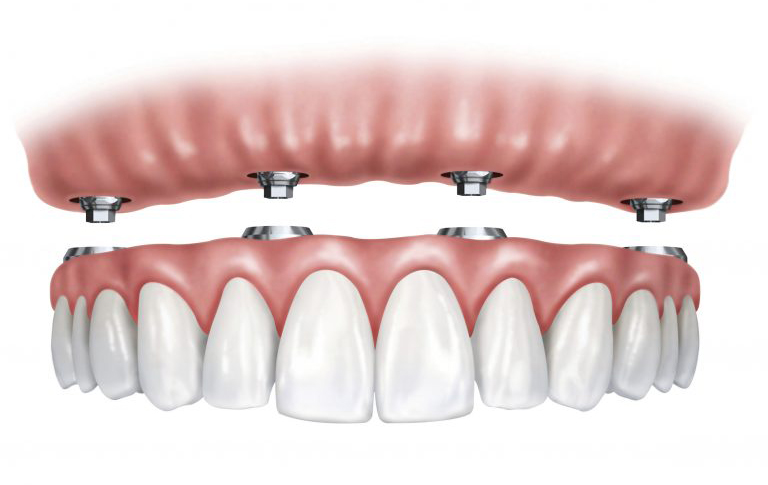 The All-On-4® and All-On-6® procedures are technically full-arch fixed dental implant bridges. There are either 4 or 6 implants that support the bridge. This is a procedure that involves the removal of all-natural teeth on the top and bottom before the bridges are put in place.
For qualified patients, this can be done in one day — the removal of the remaining teeth, the implants, and the dental bridges.
However, there are some potential drawbacks to the All-On-4® or All-On-6® procedure. Some people experience speech issues or have a hard time adjusting to the feel of the bridge.
Individual Dental Implants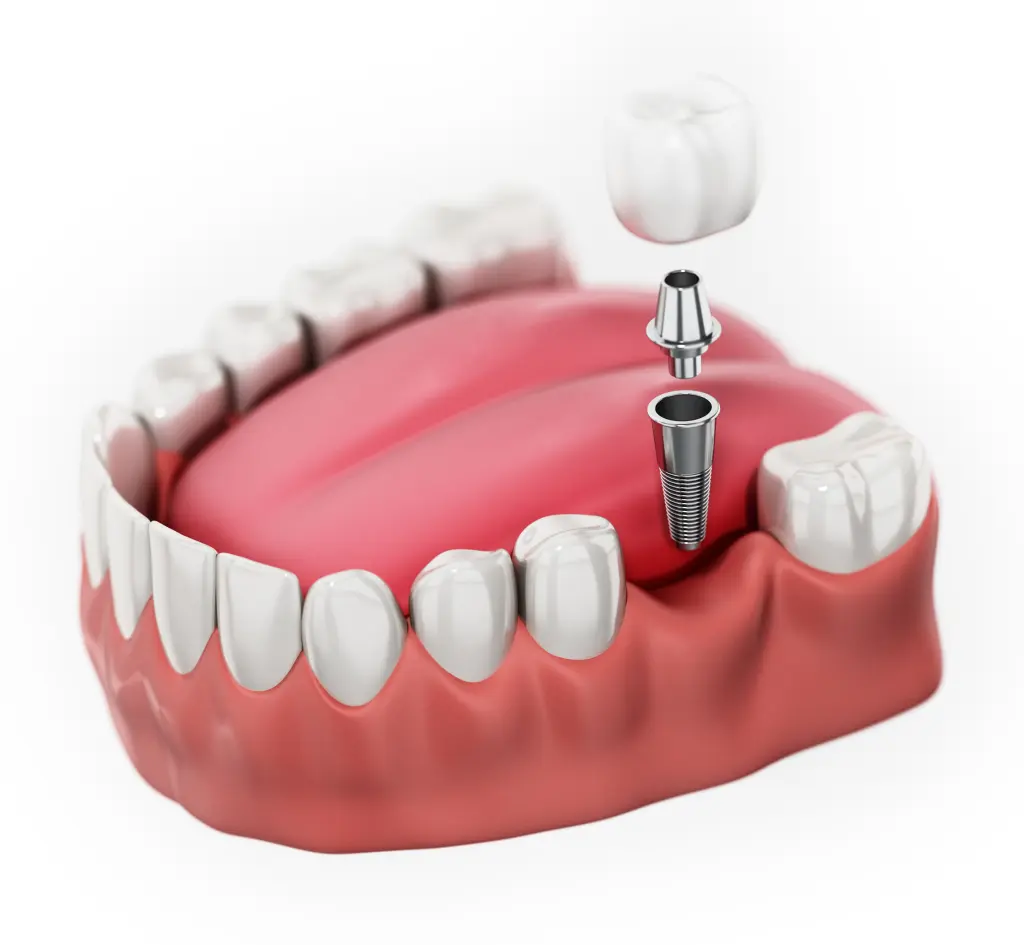 Traditional dental implants take anywhere from 6-8 months from consultation to completion. This is because individual dental implants need time to heal before placing the crown. Typically, two procedures are required for implants. The first is to implant the titanium 'root' into the bone. The second is to add the crow(s) on top of the actual implants.
If you have a majority of your teeth missing or have extensive oral health issues, the All-On-4® or All-On-6® procedure can be a great option. If you have just a few teeth missing you may be a better candidate for dental implants.
Are Dental Implants Painful?
So many people steer clear of dental procedures because they are worried about pain. But, thanks to technological advancements in medicine, getting dental implants isn't nearly as painful as you might think.
Local Anesthetic & Sedation
On the surface, of course, it doesn't sound "fun" to get dental implants. However, dental offices provide local anesthetics that can make the area go numb. As a result, you won't feel a thing. If you are especially nervous or fidgety, some offices even provide IV sedation.
When the area is completely numb, the dentist will start to do their work, and you won't feel a thing throughout the entire procedure.
At-Home Pain Management
Your dentist will give you something to take for the pain at home or suggest an over-the-counter option that you can use. It's less likely that you'll feel a lot of pain, and more likely that your gums will be tender. You might have a hard time eating certain foods for a few days, or it may feel like your gums are sensitive.
You can reduce the pain you might be feeling after receiving dental implants by practicing some of the following tips:
Sticking to a liquid diet for 24-48 hours
Avoiding extremely hot or cold foods for 48 hours
Rinsing with salt water 3-4 times a day after the surgery
Of course, you can also manage the pain at home by taking Tylenol or other dentist-recommended pain relievers.
A Healthier Smile
You don't have to be embarrassed about your smile any longer. Dental implants are one of the best solutions available to restore the healthy look of your teeth. When you make an investment in dental implants, you're making an investment in yourself and your oral health.
If you would like to know more about dental implants and whether they're right for you, feel free to contact our office for an initial consultation. Together, we can decide the best route to restore your smile.