If you are missing many or all of your teeth you most likely want to find the best dentures to replace them. Advances in dental technology have led to the creation of new types of dentures that are more natural-looking, comfortable, and stable than traditional dentures.
Find out more about implant-supported dentures and how they can restore your speech, ability to chew, and smile.
What Are Implant Support Dentures?
Oral care options have become much more diverse in recent years. Patients have a variety of options to find the best solution for their needs and preferences.
Conventional dentures consist of two full arches of prosthetic teeth with a gum-colored acrylic base. The dentures are held in place with an adhesive and removed nightly for cleaning.
Implant-support dentures involve four to six titanium posts placed into the jawbone and then topped with a prosthetic arch. Implant dentures are an affordable option that offers comfort and stability. Because the denture is anchored into the jar, it cannot slip.
Implant dentures can be temporary or permanent. The temporary option is removable (not the posts, but the dentures that attach to them). The patient can take out the denture nightly to clean them. However, this version wears out more quickly than the permanent type.
Permanent implant dentures stay fixed in place. Only Dr. Trujillo or a dentist can remove them for repairs if needed. They can be an excellent solution for anyone that wants a comfortable denture that requires minimal fuss to maintain.
Qualities of a Good Candidate for Implant Dentures
Implant-supported dentures are not for everyone. Dr. Trujillo will conduct a thorough exam and evaluation before discussing your options with you. Good candidates must have:
Sufficient healthy jawbone tissue to support the implants
Missing most or all of your teeth
No severe periodontal disease
Healthy gums
Healthy immune system
If you are a candidate, Dr. Trujillo will discuss the procedure and schedule an appointment.
Placement Procedure
The placement of implant-supported dentures takes several months to complete.
First, Dr. Trujillo will surgically attach the implant screws to your jawbone. There are normally four to six of these. Then, there is time to heal. It generally takes from three to six months for the implants to fuse with the natural jawbone. This process is called osseointegration. After this time of healing, Dr. Trujillo places a pre-molded dental arch onto the implants.
Why Select Implant Dentures over Other Types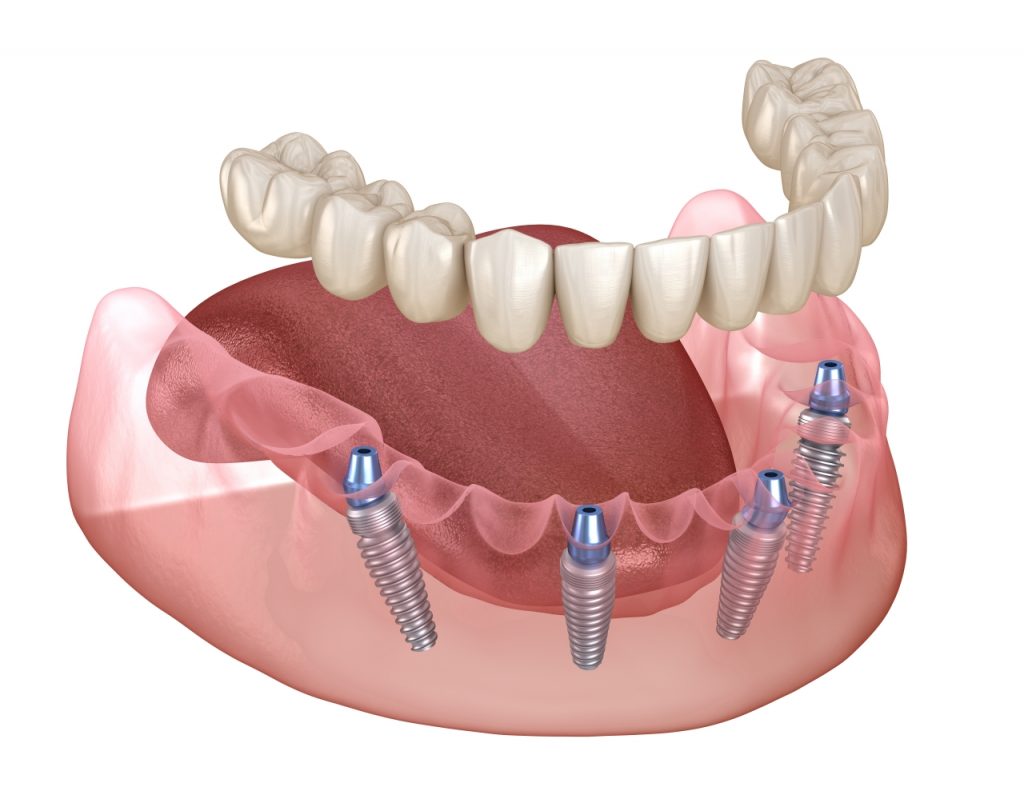 The type of denture that is best for you will depend on your oral care needs and your own preferences and wishes. Here is a breakdown of the various types of dentures and prosthetics aside from implant dentures:
Full dentures consist of removable upper and lower arches meant to replace total tooth loss. They consist of porcelain and acrylic and last from five to ten years.
Partial dentures fill in the gaps when you are missing only a few teeth. They can unclip from the other teeth and remove them when desired or for cleaning.
Temporary dentures are a short-term option for immediately after tooth removal until the permanent solution is ready. Wearing temporary dentures reduces sensitivity and prevents excessive strain on remaining teeth.
A fixed bridge involved cementing a crown into place using surgery. It is attached to the natural teeth on both sides.
A cantilever bridge uses one or more teeth on one side as an anchor when a molar needs replaced. A different solution is needed when there is no tooth on one side of the gap.
Dental implants are normally an option when only one or several teeth need replacement.
Snap-on dentures are a type of implant denture that consists of a removable crown that is removable by the wearer for cleaning.
Flexible dentures are another option for partial tooth replacement. They are more comfortable because they consist of thin thermoplastic material.
Permanent implant-supported dentures are a superior choice for anyone who needs to replace all of their teeth. They look like natural teeth, feel very secure, and are long-lasting. Implant dentures don't have as many inconveniences as removable options. They allow you to continue your life without making drastic adjustments to your daily routine or oral healthcare practices.
Health Benefits
There are a lot of reasons why you should consider implant-supported dentures. Some of the most compelling include:
Natural look and feel
Restore full function of speech and chewing ability
Sturdy
Enjoy a brilliant and natural-looking smile
Require no special care beyond the typically recommended daily oral hygiene routine
Do not require adhesive
Function like your natural teeth
Preserves the tissues of your gums and jawbone
Greater comfort due to no slipping and irritation
No adjustment period after being placed
More affordable than total implants
As you can see, there are a host of benefits that come with implant dentures. Speak with Dr. Trujillo for personalized recommendations and to address any questions and concerns you may have.
Diet Recommendations and Restrictions
Another wonderful benefit of implant-supported dentures is that they don't interfere with your eating habits. You can continue to enjoy all of your favorite foods, including juicy steaks and even corn on the cob! They are sturdy enough to let you resume your usual diet.
Implant dentures also give you the freedom to taste your food fully so you can savor every bite. They aren't bulky are therefore leave your palate open and your tongue unhindered.
About Dr. Trujillo and the Arizona Periodontal Group
Dr. Trujillo and his dedicated team at the Arizona Periodontal Group are a fantastic choice for all of your oral health needs. They offer full-service dentistry that includes routine exams and cleanings, diagnosis and treatment of periodontal disease, as well as more advanced care.
You will enjoy a positive and comfortable experience with each visit. If you have any concerns, the Arizona Periodontal Group will make accommodations to reduce your anxiety and lower your discomfort.
Dr. Trujillo has years of expertise and employs the latest technologies, techniques, and dental equipment. His whole team will focus on giving you the education you need to prevent most dental problems while offering gentle treatment for a wide array of common concerns.
Contact the Arizona Periodontal Group today and schedule an appointment to get a healthier and more brilliant smile than ever before!