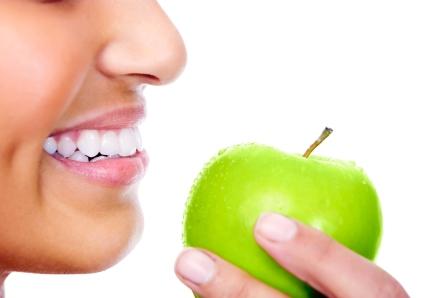 When thinking about the future of your smile, that includes dental implants, asking what you'll be able to eat is a great question! A lot of patients wonder what foods they can eat with dental implants. Here's a quick answer: almost anything. Yes, we really mean any.

That's the great thing about dental implants. They act very much like regular teeth, and this article is going to show you how.

Now, let's first talk about titanium.
The Dental Implant Process
Dental implants are incredible innovations in dental technology. They combine the artistry of dental surgery with material engineering. The process is very simple, and at Arizona Periodontal Group in Phoenix, Dr. Trujillo perform this procedure all the time. Here is a quick explanation of what the process is in a typical dental implant procedure.

First, the periodontist implants a titanium screw into the jawbone, hence the name dental implant. The purpose of the screw is to act as an anchor for the tooth. Much like the roots of a tree, or the roots of your teeth, the screw holds the permanent replacement tooth in place, as well as giving support to the teeth surrounding it.

The reason for titanium is because titanium is capable of fusing with your bone, is super strong, and your body won't eject it. The implant will heal within your jaw bone, in much the same way the roots of your teeth do. Your Dental implant creates a very strong hold and, when completely healed, your implant functions like a normal tooth.
What You Can Eat After Surgery
You can expect a brief period where your mouth will still be healing from the procedure. During this period, we recommend that you drink mostly liquids. Then once Dr Trujillo gives you the OK, you can start moving into eating soft foods and work your way up to a normal diet.

Once that's over, the sky's the limit.

That's precisely why dental implants are such an amazing invention. They give you all the flexibility and freedom that your normal teeth did. They even look like normal teeth.

Not only do you get the amazing feeling of seeing a full smile in the mirror once again, but you get the amazing feeling of eating hamburgers on the 4th of July, watermelon at a summer picnic, delicious caramel apples in the fall, and tortilla chips on game day!
Where To Get Dental Implants
There are many places here in Phoenix to get dental implants. One of the best, according to our patients, is Arizona Periodontal Group. Dr. Trujillo has deep knowledge of and expertise in dentistry and the field of dental implants.
Are you interested in dental implants? We would love to have you meet with Dr. Trujillo for a consultation. Schedule an appointment today!